Payroll Management Software
Daftra HR Payroll Management Software calculates wages and payslips for employees within your company. With few clicks, manage and generate total salaries in integration with employees' attendance, detailed with components of earnings and deductions for each employee according to the agreed set terms in their contracts. Activate flags and rules to automatically compute and reflect overtime, bonuses, absence or delay deductions in employees' monthly payslips.
Free 30-day trial

No credit card needed

No Setup
Boost your
Human Resources

with Daftra
Employees & Contracts
Organizational Structure
Attendance & Leaves
Payroll Processing
Requests & Loans

Generate employee
payroll automatically
Extract payslips for all company employees for the payroll calculation period selected with one click, including the basic salary components according to terms in the employees' contracts in addition to applying any benefits or deductions calculated from attendance and leave records for the same period.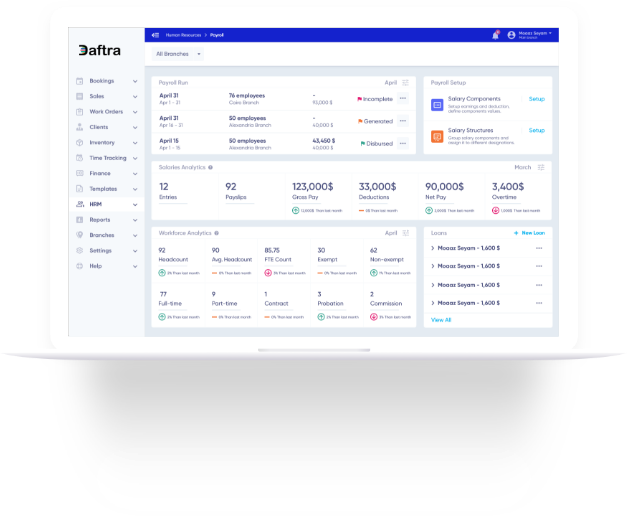 Create tailored employee salary structure templates
Customize salary structures for employees to adjust earning and deduction components according to the company's job structure in various departments, designations and levels of employment. Set the required structure template within the employee contract and issue the payslip according to the specific components inside the template.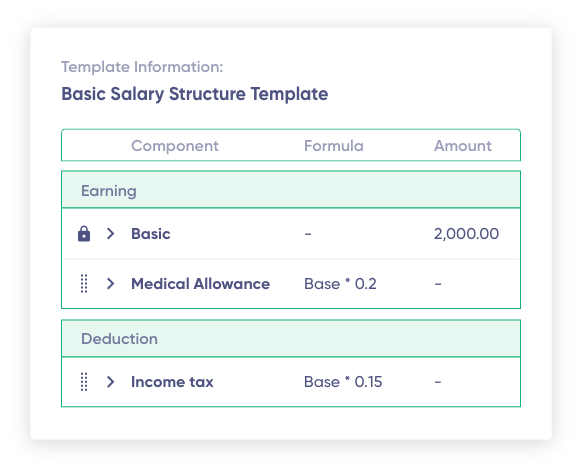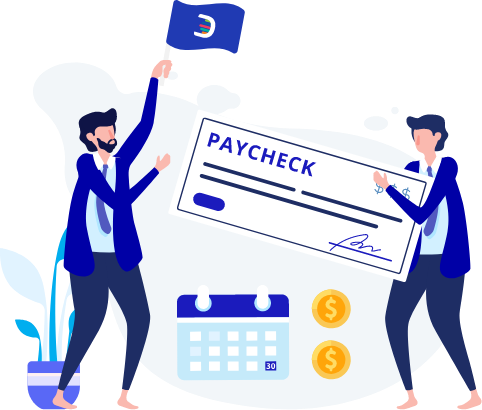 Set computational formulas for incentives and deductions
Build your own rules to calculate earnings or deductions according to a set of formulas and conditions that you can set and control yourself. Select from various available variables whose value is recalled from the employee's work results, whether they are attendance days, the number of hours of delay, the number of extra working hours, and many other variables and values that can be used in creating salary calculation equations.

Run payroll, extract payslips and calculate net wages in seconds
Easily issue payslips with smart extraction tools that give you options to extract payslips for a group of employees by specifying a specific department or department of the company, in addition to the possibility of issuing payslips on an individual employee level, and integrating with attendance using the employee attendance validation feature.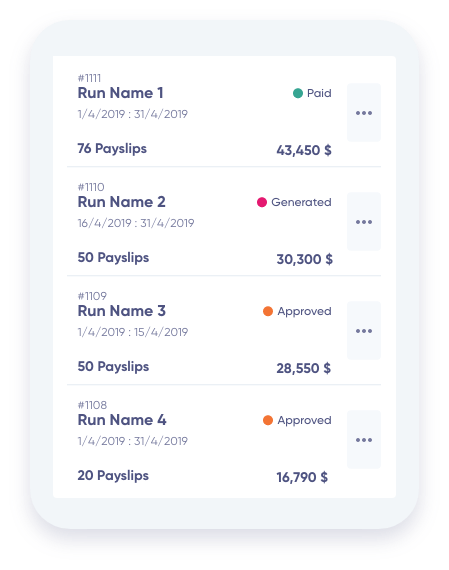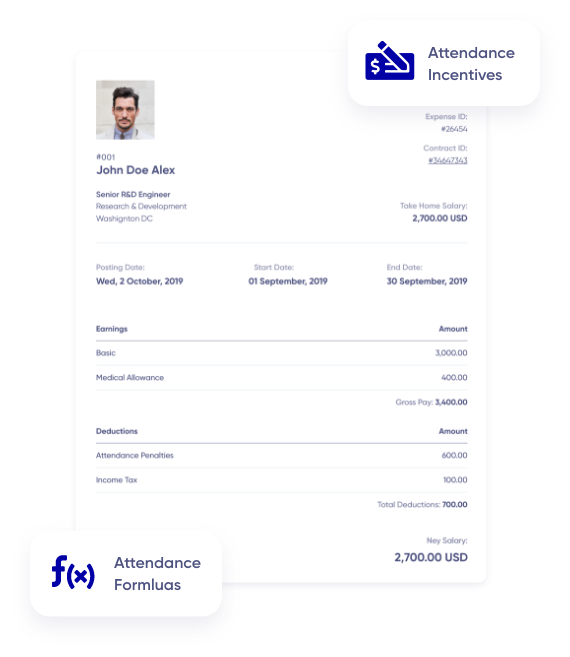 Link employee attendance records to payroll computation
Include attendance and leave records for all employees when calculating their payroll, including delays, absences or overtime hours and applying the formulas for calculating earnings and deductions automatically and including them in the final calculation of the employees' wages.

Get detailed reports on issued salaries to employees
View a set of reports to be informed of the total salaries paid to employees. Filter according to the company's organizational structure, departments, employment levels or per individual employee. Get results for different pay run periods and find out the net salary generated monthly or annually.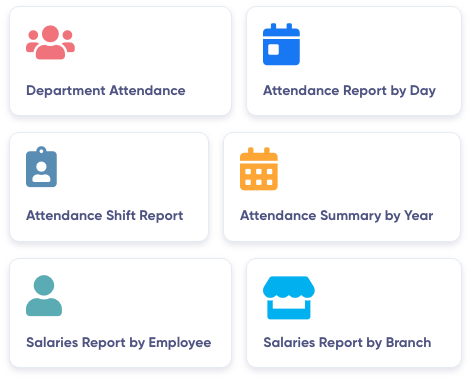 Daftra

Promises as Your
Business Partner

Find out why Daftra has been the choice of over 10,000 SMEs.
Free and
Quick Support
Daftra support is equipped to meet your every inquiry, round the clock, to satisfaction.
Safe and
Secure
Daftra is hosted on secure servers, with 256-bit SSL encryption technology, so is your data in full, private, protected, with constant auto-backups for increased security.
Personalized
Experience
Curated with personalization prioritized, create from scratch or find fully customizable templates, field entries, report filtering, customizable system colors and logo upload to maintain your brand.
Simple
and Advanced
Daftra user manuals are there to guide you, but you won't feel lost without them. Easily navigate and use powerful features running in the back to provide you a seamless front.
Save Time
and Effort
Our intuitive user interface, backed by automation, is dedicated to serving serious business owners who have no time to waste.
Remote, Yes.
Disconnected, Never
Daftra is cloud-based, your business is never out of reach. Access and manage your business, anywhere, anytime, from any device, consistently updated and intact.
Free
Lifetime Updates
Daftra is constantly growing to expand supporting you. Ongoing updates are included for free, whatever plan you select, forever.
Cut-rate
Deal
All-in-one and accessible for your business in whatever size and budget. Replace a number of tools, with their effort of learning and fees by investing in one budget-friendly solution.