Installment Management Software
Daftra Installments management software lets you offer your customers payment installments by dividing the total invoice amount into even due installments according to the number of installments set. The system determines the value of each installment automatically based on the entry for the number of installments and the specified interval between each. Amend and change the value and due date of any of the registered installments with great flexibility, as well as the late payments notification system.
Free 14-day trial

No credit card needed

No Setup

Boost your
Sales

with Daftra
Invoicing & Quotations

Point of Sale

Offers & Discounts

Installments Management

Sales Targets & Commissions

Insurance Management Activate installment agreement on client invoicing
Once you invoice your client for purchases or services you can set an installment agreement on the invoice whether its' unpaid or partially paid, the system displays the available installment options for the total amount due on the invoice. All installments are registered due on the client and are directly linked to the invoice with a summary statement of the payment status, settled payments and the remaining due installments.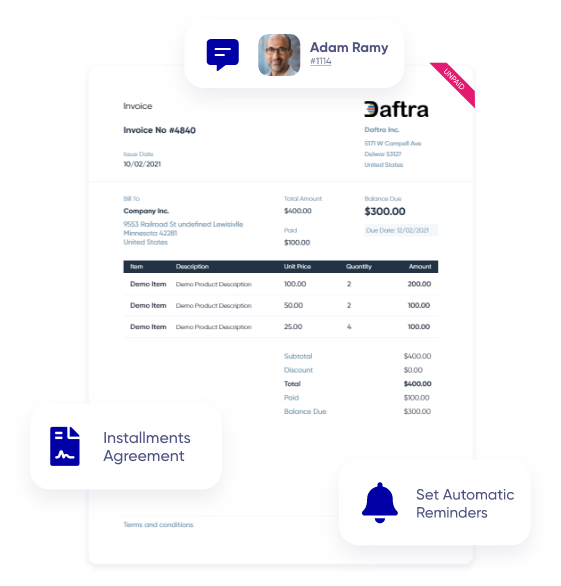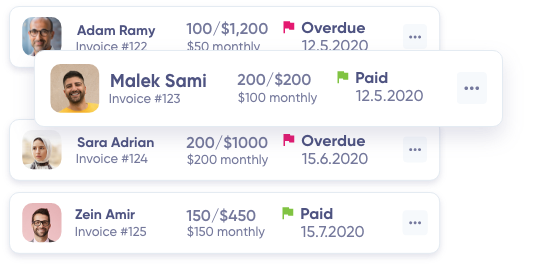 Specify the number and duration of installments
Have complete flexibility in setting the customer's installment agreement terms, determining the number of installments on the invoice as well as the interval between each installment and another; the system adjusts the value of the installments and determines their due dates, according to the date of the first installment. Register your customers' installment payments
Display auto-updated installments' listing and register your customers' installments payment collection, or go to the customer's profile directly and update their payment balance and the system automatically fulfills the required installments' amount due.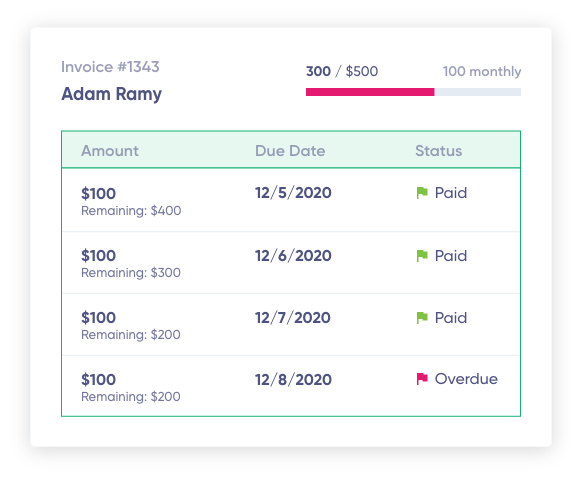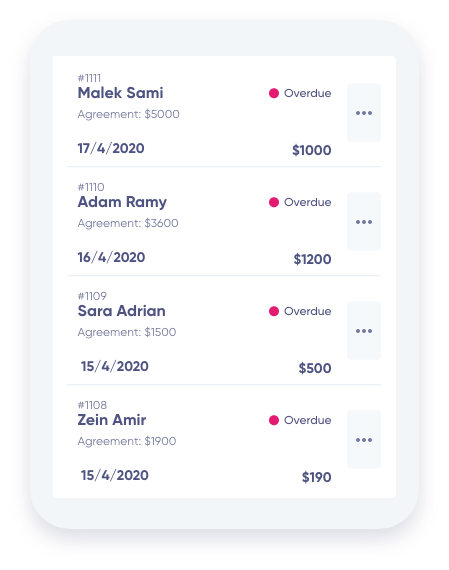 Receive notifications of overdue installments
Stay updated with an active notification system to report any late payments; the installment status changes automatically once the customer misses the installment due date without paying it.

Amend agreements' terms for more flexibility
Have the space to change and adjust the installments without having to adhere to the automatic division of the value of the installments and their due dates. Adjust the value and due date of each installment required and the system automatically recalculates the remaining installments based on the new modification.