Work Orders Management Software
Daftra work orders and projects management software provides management of all entries and actions taken on projects contracted with your clients, and allows recording various financial operations and monitoring their movements in terms of revenues and expenditures providing a final summary showing the profit resulting from the project.
Work Orders software is directly integrated with Daftra CRM, Sales, Accounting and Inventory management software; all various procedures are covered, from keeping appointments and notes, creating sales and purchase invoices to recording exchange movements and linking inventory, as well as adding project expenses, all of which are viewed in separate, simplified windows to remain informed with all project details.
Free 14-day trial

No credit card needed

No Setup
Boost your
Operations

with Daftra
Work Orders
Booking Management
Time Tracking

Open project files with clients and maintain all processes
Start your various projects with clients by allocating a file that contains project data and details in addition to all financial transactions and even appointments and notes related to it. Record various operations, including sale and purchase invoices, expenses and revenues, and outbound requisitions warrants from inventory. For each type of transaction, find a dedicated window that displays a summary of the recorded transactions.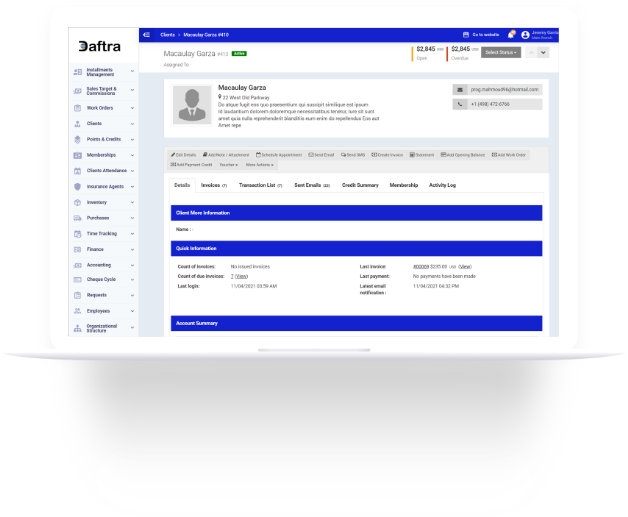 Record every financial movement related to the project
Save various records and financial transactions that are classified under the project income and expenses, view a final summary of each projects' results and display the total revenues and expenses to give in the end the total profit for the project.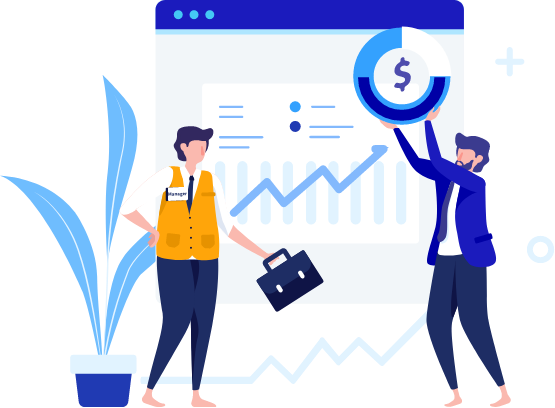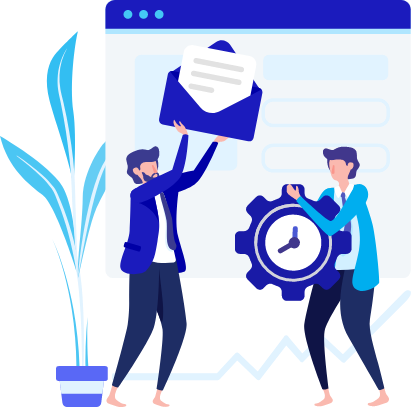 Follow all project's procedures and be informed of all its details
Displaying a record of transactions within each project to indicate the date and time of each movement and thus be aware of the latest procedures or processes that have been recorded within the project file. It is also possible to record various notes, upload related attachments and documents and share them with the customer who owns the order.

Customize different WO procedures and keep customers up-to-date
Adjust the different statuses of work orders with flexibility. Customize the list of work order statuses itself to suit the nature of the activity or the projects; the statuses' names can be changed and given color each while setting a default status as well as determining the status of the current project between "open" and "closed". The client who owns the project can receive an SMS or email automatically every time the project develops to another stage or status.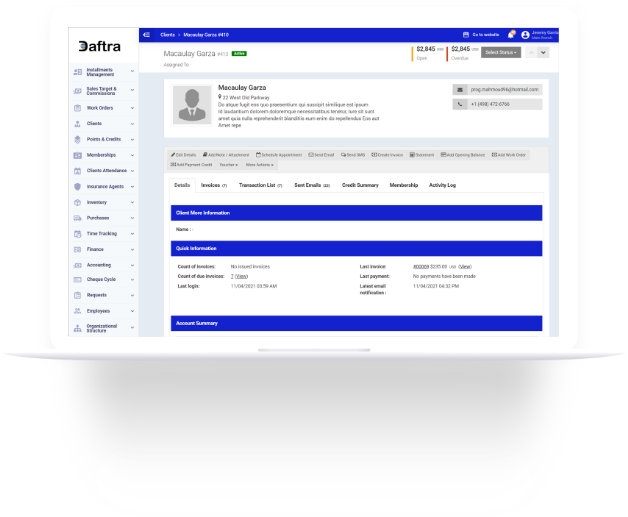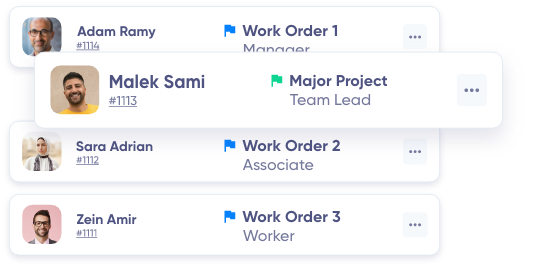 Assign projects to employees and control project authorizations
Through the benefits of appointing employees, you can direct the project to one or more employees so that each of them can view the project details and take the required actions in accordance with the privileges assigned to them. Follow all the procedures and processes recorded on the project by the employees in charge as well as the date and time of recording the movement. Apply an automatic messaging system through SMS
Send text messages to clients and project management personnel. Inform them of the latest developments or future actions, or remind them of agreed deadlines. Notify customers of the due invoices and send the customers the link to view the invoice.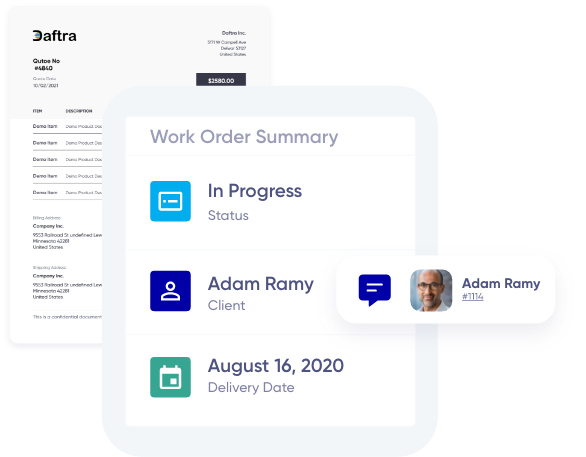 Customize screens and templates to suit various fields and activities
Modify, format and customize work order templates to fit the desired content and choose the type of data to display in the template. The displayed content can also be shared with the customer on his own account. Add more fields for customized project data, and specify the address and nature of each field, in order to be able to build an entry screen that suits the nature of your industry and fits various types of projects.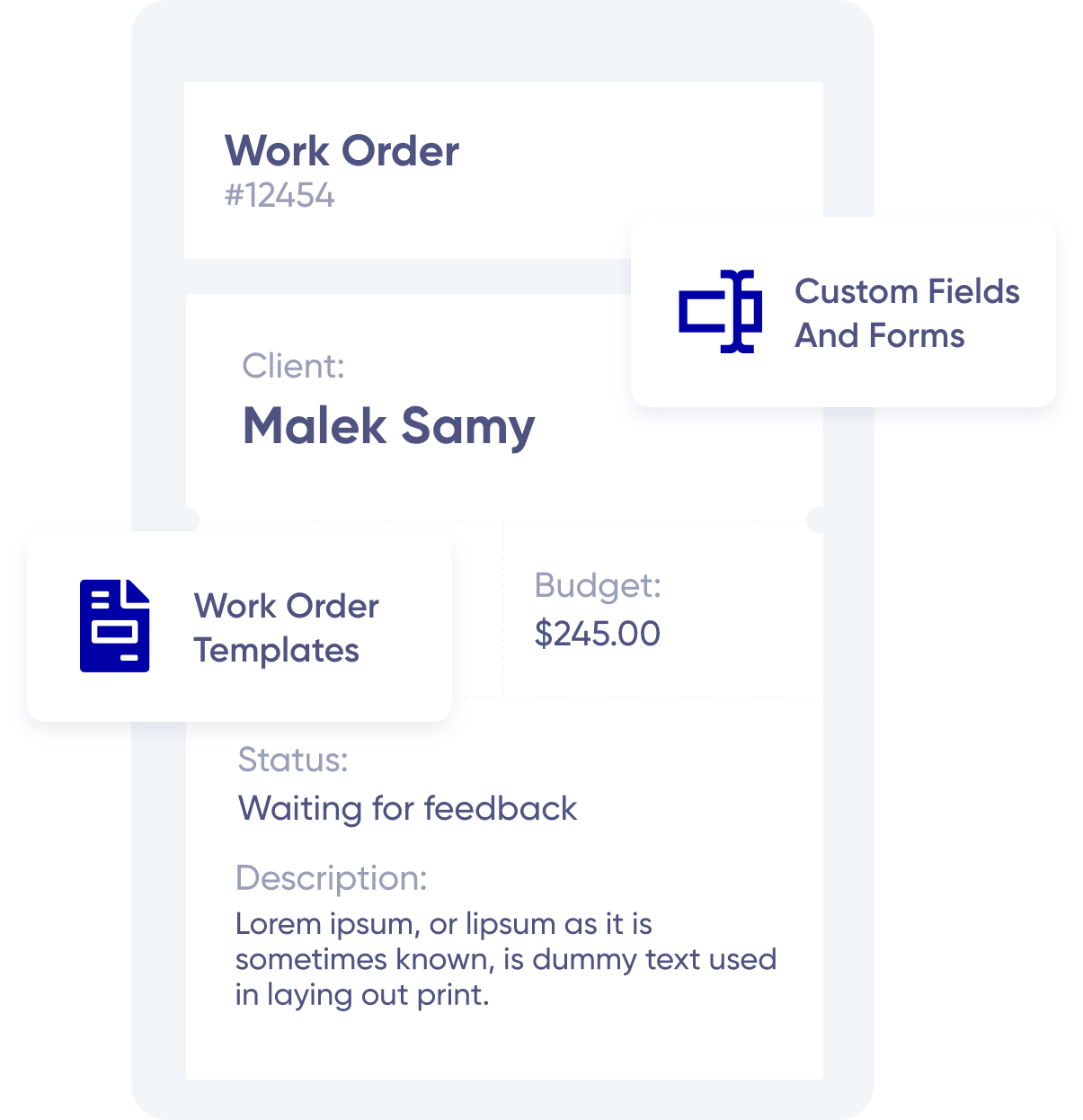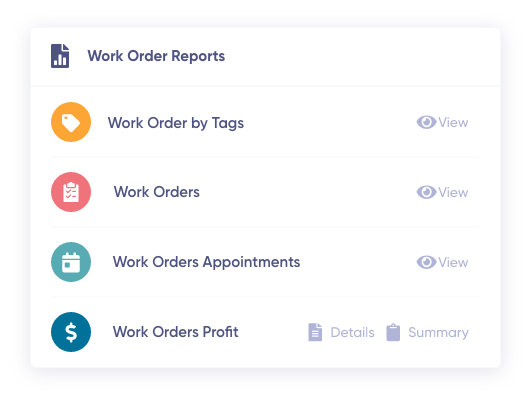 Generate detailed reports to view project data and status
View a set of detailed reports to show the list of work orders and projects registered on the account, and know their status, the project's client within each project and easily track progress and profitability.
Daftra

Promises as Your
Business Partner

Find out why Daftra has been the choice of over 10,000 SMEs.
Free and
Quick Support
Daftra support is equipped to meet your every inquiry, round the clock, to satisfaction.
Safe and
Secure
Daftra is hosted on secure servers, with 256-bit SSL encryption technology, so is your data in full, private, protected, with constant auto-backups for increased security.
Personalized
Experience
Curated with personalization prioritized, create from scratch or find fully customizable templates, field entries, report filtering, customizable system colors and logo upload to maintain your brand.
Simple
and Advanced
Daftra user manuals are there to guide you, but you won't feel lost without them. Easily navigate and use powerful features running in the back to provide you a seamless front.
Save Time
and Effort
Our intuitive user interface, backed by automation, is dedicated to serving serious business owners who have no time to waste.
Remote, Yes.
Disconnected, Never
Daftra is cloud-based, your business is never out of reach. Access and manage your business, anywhere, anytime, from any device, consistently updated and intact.
Free
Lifetime Updates
Daftra is constantly growing to expand supporting you. Ongoing updates are included for free, whatever plan you select, forever.
Cut-rate
Deal
All-in-one and accessible for your business in whatever size and budget. Replace a number of tools, with their effort of learning and fees by investing in one budget-friendly solution.