Best Electronic Invoice Software In Egypt
Get the best electronic invoice software in Egypt. Daftra is an integrated accounting system for business management. It fully supports connecting and integration with the electronic invoicing system introduced by the Egyptian Tax Authority. Daftra is also a cloud-based management software for your sales, accounting, inventory, stores, clients, and employees.
You can issue an electronic invoice in Egypt while fulfilling the required standards of data related to the buyer and the seller prescribed by the Egyptian Tax Authority. Daftra also supports the item code of your products and the possibility of customizing it according to your needs.
Registration in the Egyptian electronic invoice system.
Supports electronic signature.
Supports the standard item code.
14 Days Free Electronic Invoice!

Ready To Work Now!

No Setup

Boost your
Sales

with Daftra
Invoicing & Quotations

Point of Sale

Offers & Discounts

Installments Management

Sales Targets & Commissions

Insurance Management

A Few Steps To Connect Your Account With The Egyptian E-Invoice System
Daftra allows you to issue electronic invoices in Egypt that fulfill the necessary requirements set by the Egyptian Tax Authority for the electronic invoice system. You only need to follow simple and easy steps to be connected with the Egyptian electronic invoice system.
Daftra electronic invoice includes all required fields for a unique serial number and the required information of your company and clients (such as tax number, name, address, and contact information). The invoice also includes the description of the products or services and calculates the costs and taxes automatically. So, it fully supports the electronic tax invoice.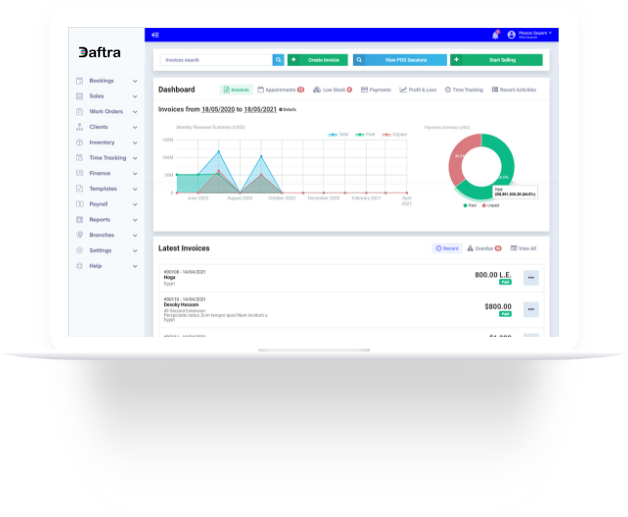 Add the Unified Standard Code for Goods and Products
Daftra makes it easy to create an electronic invoice and send it to the system of the Egyptian Tax Authority. It only takes a few steps to include the Egyptian unified standard code for the goods and services and export it on your e-invoice.
Daftra enables you to automatically add the unified code to your e-invoice according to the list of item codes you have. The e-invoice software then automatically sends the data to your account on the Egyptian Tax Authority's system. Daftra's invoice program also provides a tool to extract the GS1 codes in Arabic to facilitate international and Egyptian code extraction.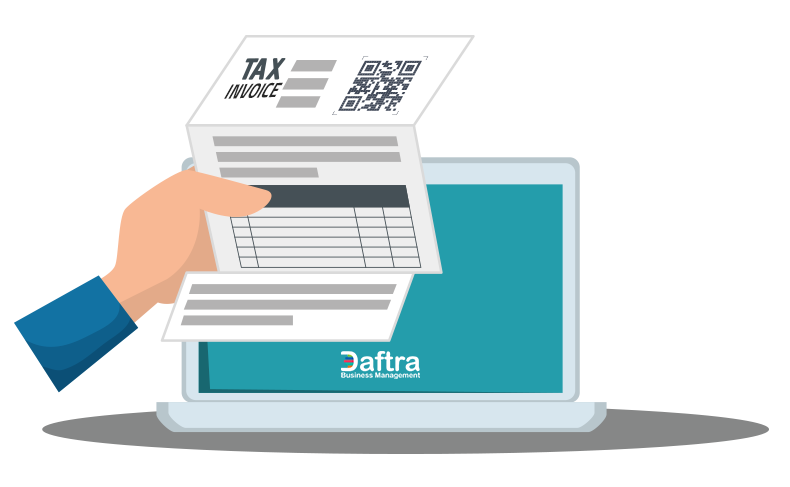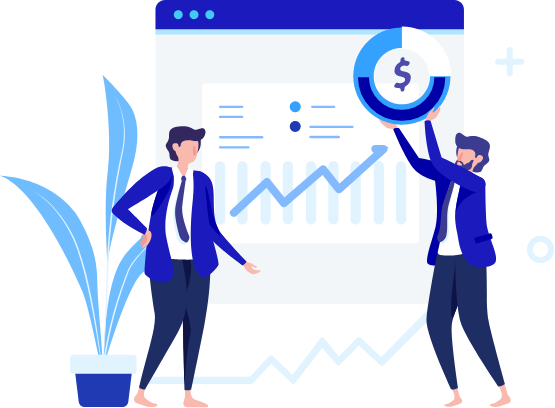 Add E-Stamp To Your Issued Invoices
Daftra electronic invoice software enables you to add the electronic stamp on each electronic invoice as specified by the Egyptian Tax Authority. It is a requirement that is necessary to validate your business e-invoice data.
When you obtain your authorized electronic signature certificate from Egypt Trust Company. Daftra's invoice app would enable you to include your e-stamp on your e-invoice when it is sent to your account in the Egyptian Tax Authority System.
Pricing
Billed $120 per year
$120/y
Billed $239 per year
$239/y
Billed $480 per year
$480/y
14 Days Trial
No credit card required Cancel anytime
14-day trial gives you a free account, upgrade the same account when your trial period ends.
Daftra

Promises as Your
Business Partner

Find out why Daftra has been the choice of over 10,000 SMEs.
Free and
Quick Support
Daftra support is equipped to meet your every inquiry, round the clock, to satisfaction.
Safe and
Secure
Daftra is hosted on secure servers, with 256-bit SSL encryption technology, so is your data in full, private, protected, with constant auto-backups for increased security.
Personalized
Experience
Curated with personalization prioritized, create from scratch or find fully customizable templates, field entries, report filtering, customizable system colors and logo upload to maintain your brand.
Simple
and Advanced
Daftra user manuals are there to guide you, but you won't feel lost without them. Easily navigate and use powerful features running in the back to provide you a seamless front.
Save Time
and Effort
Our intuitive user interface, backed by automation, is dedicated to serving serious business owners who have no time to waste.
Remote, Yes.
Disconnected, Never
Daftra is cloud-based, your business is never out of reach. Access and manage your business, anywhere, anytime, from any device, consistently updated and intact.
Free
Lifetime Updates
Daftra is constantly growing to expand supporting you. Ongoing updates are included for free, whatever plan you select, forever.
Cut-rate
Deal
All-in-one and accessible for your business in whatever size and budget. Replace a number of tools, with their effort of learning and fees by investing in one budget-friendly solution.