Attendance and Leave Management Software
Daftra Attendance and Leave Management Software provides a set of tools to automatically calculate the employee's attendance days using fingerprint devices' auto-registered records and online. Extract a detailed report that displays all the results of selected periods from absences, delays, and the employee's total working hours. Set attendance restrictions, delay rules and leave policy of the company, and a separate list to record all official holidays throughout the year.
Free 14-day trial

No credit card needed

No Setup
Boost your
Human Resources

with Daftra
Employees & Contracts
Organizational Structure
Attendance & Leaves
Payroll Processing
Requests & Loans

Manage work multi-shifts, attendance and leave rules
Set employees' work shifts, specify the work and off days and working hours for the shift as well as delays and grace periods and secondary shifts for the same employee. Define your company's leave policies by setting the basic conditions required for approval. Inquire about your employees' attendance records through a set of detailed reports.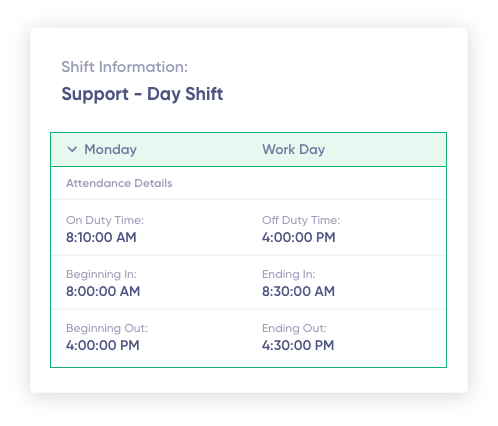 Use different methods to take employee attendance records
Withdraw attendance records directly from the various connected fingerprint devices*, upload a ready file of attendance and leave records to the system, or have a designated staff manually input the attendance records.
*Direct withdrawal from fingerprint devices requires that they be linked to service devices connected on the Internet (WAN). For more details, please contact Daftra technical support team.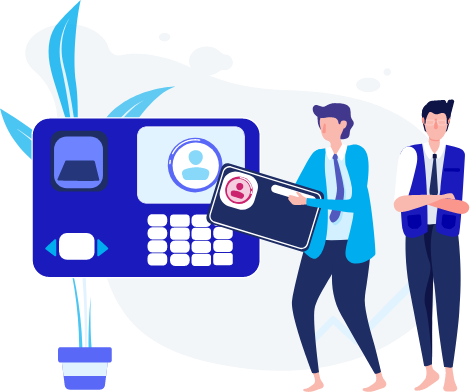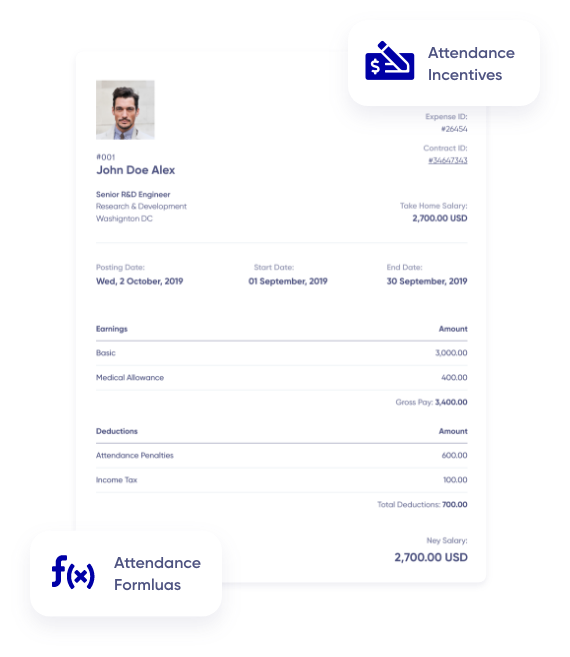 Monitor remote employees' attendance with restrictions
Set employees' attendance restrictions to only validate attendance from a certain IP address(es), accept a specified location or location range, require a mandatory employee photo capture and activate all, one or more of the restrictions at the same time. Assign the restriction to your employees and take attendance only when the conditions apply. Track leave requests, vacations and consumed balance
Track the leave balance deducted and the remaining available balance of each employee by calculating the monthly working hours and days of your employees. Monitor the registered requests and comply with the granted Holidays and Holiday policies. Change the status of any working day of your employee from present, absent, or on leave, or set the day as one of the registered leave days, to be deducted from the available leave balance.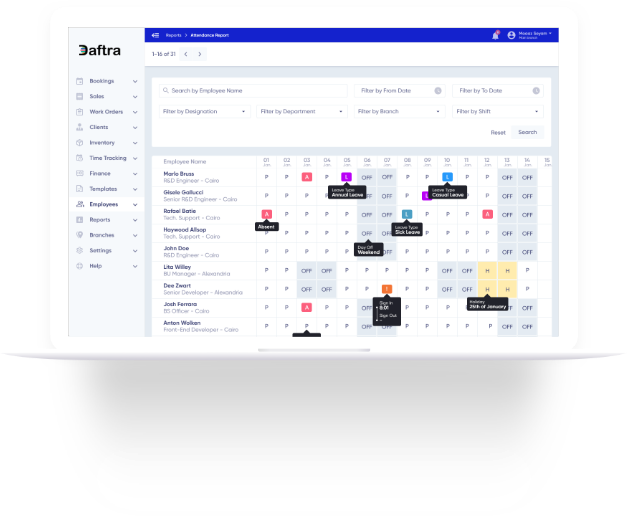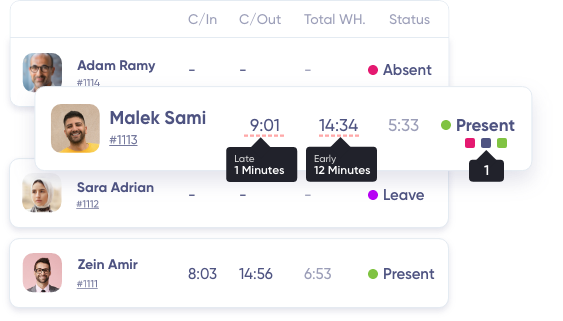 Calculate delays and early dismissals automatically
Issue the employee's attendance statement with the click of a button; Daftra Attendance Management applies the shift rules and extracts a summary of attendance, absence and the delay periods as well as early leaves, and clarifies the monthly actual working hours and their ratio to the expected work hours of the employee.

Link attendance records to salary incentive and deduction equations
Employees' attendance and leave records are fully integrated with the HRM Payroll software and are taken into account when calculating the net salaries. Through payroll software, customize components to automatically add earnings or deductions to the employee's salary using a wide range of variables including total days of delay, overtime, or early attendance days, and other different fully customizable formulas and equations.