Contracts Management Software
Daftra HR Contracts management software grants you the ease to create work contracts for employees within your company, specifying the job role details, the contract period, the training and probation period, and the salary components in full, including benefits and deductions. With notifications of the contract period expiration and the availability of options for renewal, cancellation, or linkage with other previous contracts for the same employee.
Free 14-day trial

No credit card needed

No Setup
Boost your
Human Resources

with Daftra
Employees & Contracts
Organizational Structure
Attendance & Leaves
Payroll Processing
Requests & Loans

Simply manage
employment contracts
Start registering employees' contracts and specify all employment details in it; the employee's duties, employee level and department, contract period and probationary period. Structure the employee's salary within the contract by adjusting the basic pay, the terms of earnings and deductions. Control the contract status through a variety of procedures such as renewal, replacement or complete cancellation of the contract.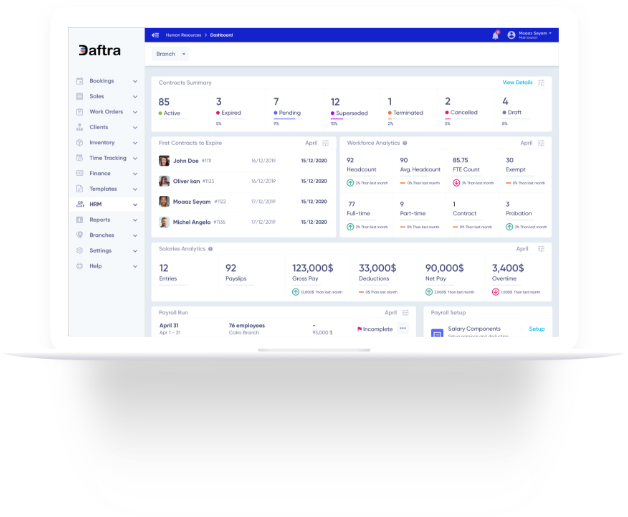 Tailor the contract content to your liking with custom fields
Have full flexibility in adjusting contract fields through the custom fields feature, and reconfigure the contract to accommodate all your required details according to the nature and policy of employment in your company.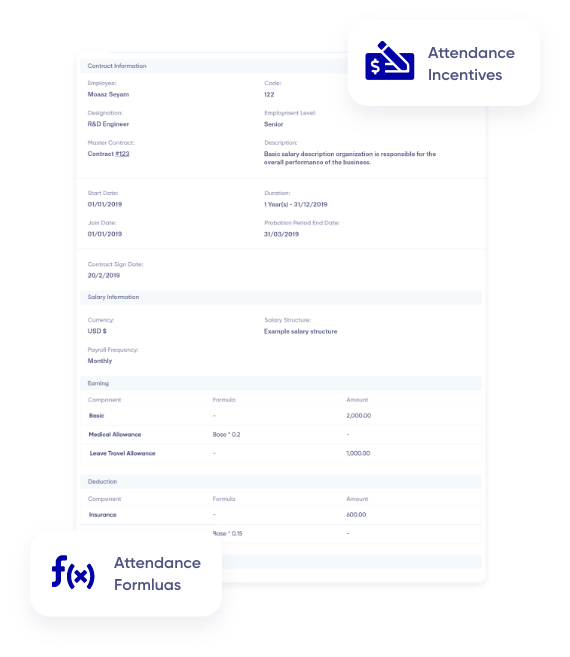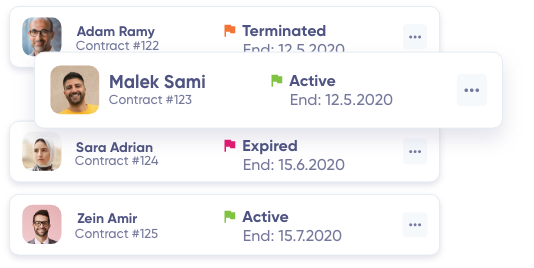 Monitor the status of your employees' contracts in real-time
Stay updated with the current status of employee contracts, with the advantages of filtering and quick search for any of the contracts registered, and the ability to attach various documents to be part of the contract components for the employee.

Design different salary structure templates
Adjust the different salary templates according to the nature of the job role or level instead of repeatedly setting salary values and terms for each employee in contracts, incorporate them directly from within the employee contract add screen, with the option of customizing individual contracts or setting custom salary structures for levels or departments to select in the contract in a click of a button.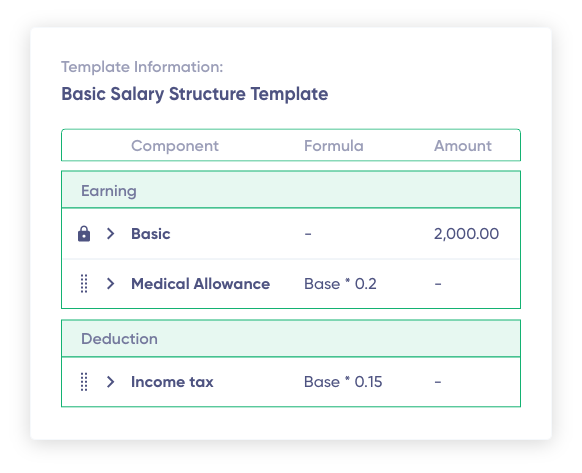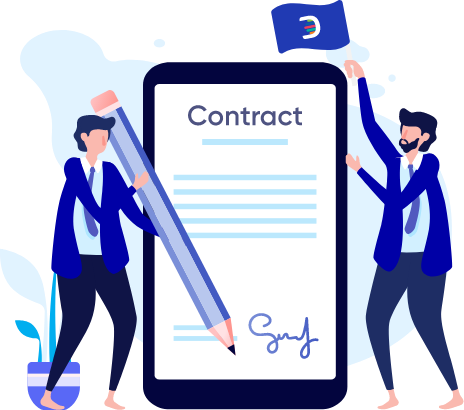 Adjust and amend contracts from anywhere, at any time
Since Daftra Contracts is cloud, you can access the employee database, view the contract list and take any action desired or update the status of any of the contracts from anywhere in the world at any time you want.