Online Invoicing Software
Manage your invoicing with a professional and efficient system. Accepting multiple payment methods, offline and online, getting paid is no longer a system-fault concern. Daftra provides error-free invoicing, automated payment and vast functionality and integration with all transactions, so you can focus on your side of the business.
Free 30-day trial

No credit card needed

No Setup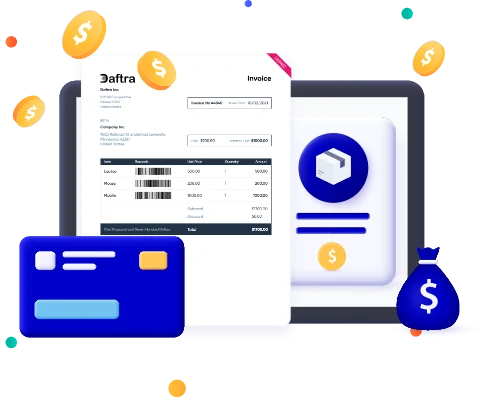 Boost your
Sales

with Daftra
Invoicing & Quotations

Point of Sale

Offers & Discounts

Installments Management

Sales Targets & Commissions

Insurance Management

Easy Invoice creation
Focus on what matters with automation, ease and centralized space for all the invoice details that you can think of. Easily make selections from your database of clients to be invoiced, select the invoice items from pre-saved ones or use barcode, and save even more time with the functional "Copy & Paste" feature that allows you to move already saved records of your items from excel sheets into the invoice being created.

Comprehensive functionality, beyond good-looking
Get business-level utility by not only adding the items to be invoiced, but also integrating discounts, taxes, registering client deposits, adding fully customizable shipping details, auto-reminders, attaching documents in the invoice, payment terms and conditions and additional notes.
Integrate other Daftra business modules to manage clients to be invoiced, track invoiced products and services and the salesperson issuing the invoice.

Ready-made and Customizable
Invoices help you get paid, but they also represent you. Customize the invoice layout and custom invoice fields based on your needs and find ready-made invoice templates that you can customize or use as is. Once you settle on a preferrable design, set it as default or select from various other pre-saved templates while creating the invoice.

Professional business Invoicing
Present your business and well-represent your brand with Daftra invoicing. Not only do you one-time add your logo and company details to the invoice, you also provide clients with every detail your business invoicing might require in one document with simple clicks and automation setup, anywhere, anytime.

Automated recurring invoices and payments
Adjust recurring invoice settings when you know your offering occurrences, set the first invoice date and interval and find the invoice automatically generated and sent to the selected client based on your choice of delivery method.

Faster payment with credit cards and online payments
Worry less about getting paid when you offer your clients the ease of selecting from a number of integrated payment gateways including credit card payments and online payment. Make transactions easier and getting paid guaranteed. Mark invoices as paid, register payments on the go or add payments later at your convenience.

Easier Refunds Management
When you have your invoices and payments in one place, handling refunds is as easy as a click of a button. Simply select the invoice where you can make needed edits and choose how you wish to refund from multiple payment methods.

Advanced detailed reporting
Get insights into your business's performance and profitability through Invoicing reports including periodic profit and loss reports and track detailed sales transactions by item, client, salesperson, or periodically. Monitor and filter through your payments and profit from each sale.